Ashton, affectionately known as Frankie to his family and close friends, turned 5 on the 17th of April 2020. He was so happy that day he squealed with delight as he opened a present that was an Ashton-sized Rural Fire Service and SES uniform, both with his name on them because, for the longest time, Ashton has wanted to be a firefighter and an SES worker when he grows up. This is most definitely influenced by his dad, Greg, who volunteers for both organisations in the community of Inverell where the family lives.
Just four days after his birthday Ashton and his mother, Annemaree, were being flown down to John Hunter hospital in Newcastle and, after a barrage of tests, they received the news that Ashton has T cell lymphoblastic lymphoma, a rare and aggressive cancer. Treatment needed to start immediately. 
Ashton was put on a course of steroids, had fluid drained from his lungs, was on oxygen for a number of days, had a portacath inserted to make treatment easier and less painful and commenced chemotherapy.
At the time that Ashton and Annemaree were rushed to John Hunter hospital the country was in lockdown due to coronavirus. This meant the rest of the family, Greg and Ashton's three older brothers Liam 12, Aidan 10 and Luke 9, had to remain in Inverell. Annemaree has always been the primary carer of the boys and has never been away from them and Ashton has always been in the company of his brothers.
Only one parent was allowed into the hospital and Ronald MacDonald House had been closed while travel not considered essential carried hefty penalties. So the Readett family was displaced at the time they needed to be together most.
Greg has not been able to work since Ashton was diagnosed as he needs to care for the three older boys. The boys have not returned to school as they do not want to be exposed to anything that may delay their ability to go to Newcastle once restrictions are lifted and they also do not want to compromise Ashton's immunity. The school that the boys attend, Holy Trinity, has been very supportive and continues to provide work for them to complete at home. Liam, who started high school this year, helps his younger brothers with their school work in the morning then they do jobs with Greg in the afternoon so that Liam can concentrate on his school work. Liam is about to celebrate his 13th birthday and will not be able to share that milestone with his mother and youngest brother.
Things have not gone smoothly for the family at home in Inverell. Greg hit a cow and damaged the ute and the washing machine has broken down which Greg hopes to be able to look at and get working again. He is currently trying to do things to the house, such as insulating the boy's bedrooms, so that Ashton's recovery is not compromised when he is able to come home for short stays between treatment. That is some time off yet.
Since being admitted to hospital and commencing treatment a lot has happened to Ashton much of which is expected or possible during treatment for cancer. Initially, due to the steroids he was on, Ashton had an insatiable appetite and his days were driven by food. He would finish one meal and ask when the next was coming. He has had lumbar punctures, CT scans, ultrasounds, PET scans and multiple blood tests. His portacath has not always been successful in allowing access and Ashton has  not liked it at all when blood had to be drawn from his arms.
He has had periods of fatigue causing him to sleep a lot, it is amazing the places that he can go to sleep, and often has very low energy levels. He has suffered with the pain of mouth ulcers and has had difficulty with his gross motor which has required the use of a wheelchair as he is at risking of hurting himself when he falls over. He has lost his hair, has developed rashes, had fevers, developed infections, lost his appetite and been placed on morphine to manage pain.
His moods have fluctuated between disengaged, angry and happy. At times he has not coped with the need for blood tests because it has hurt and he has refused to take his medicine (sometimes spitting it out) or complete his oral care. Day to day life for Ashton and Annemaree has been full of changes, has presented many challenges and has at times been difficult. It has been hard for Annemaree shouldering this on her own.
This is a big thing for a family to deal with and we know that the success of treatment for childhood cancer is dramatically increased if the family can be together during this time. Our goal is to raise funds for the Readett family so that they are able to relieve some financial stress and get down to Newcastle as soon as coronavirus restrictions allow so that they can deal with things together and all get the support they need to ensure a successful outcome.
To Help Ashton Kick Cancer we are asking you to donate funds that will go directly to Annemaree to be used as the family needs in this time of crisis.
Leanne Schuhmacher, who met the family in her working capacity and has become a close family friend is shaving her hair off along with Greg Readett, Ashton's dad in support of Ashton to launch the campaign  on Wednesday 17th June.  Other  community members are taking the plunge to colour or shave based on your donations.
When Ashton was diagnosed with T cell lymphoblastic lymphoma his mother was told he would be in Newcastle for 8 months before he might be able to go home to Inverell for a short visit. Obviously the more money we can raise the easier it is for the family to be together and focus on Ashton's treatment and recovery.

There is an African proverb that says - It takes a village to raise a child

Please take this to heart and Help Ashton Kick Cancer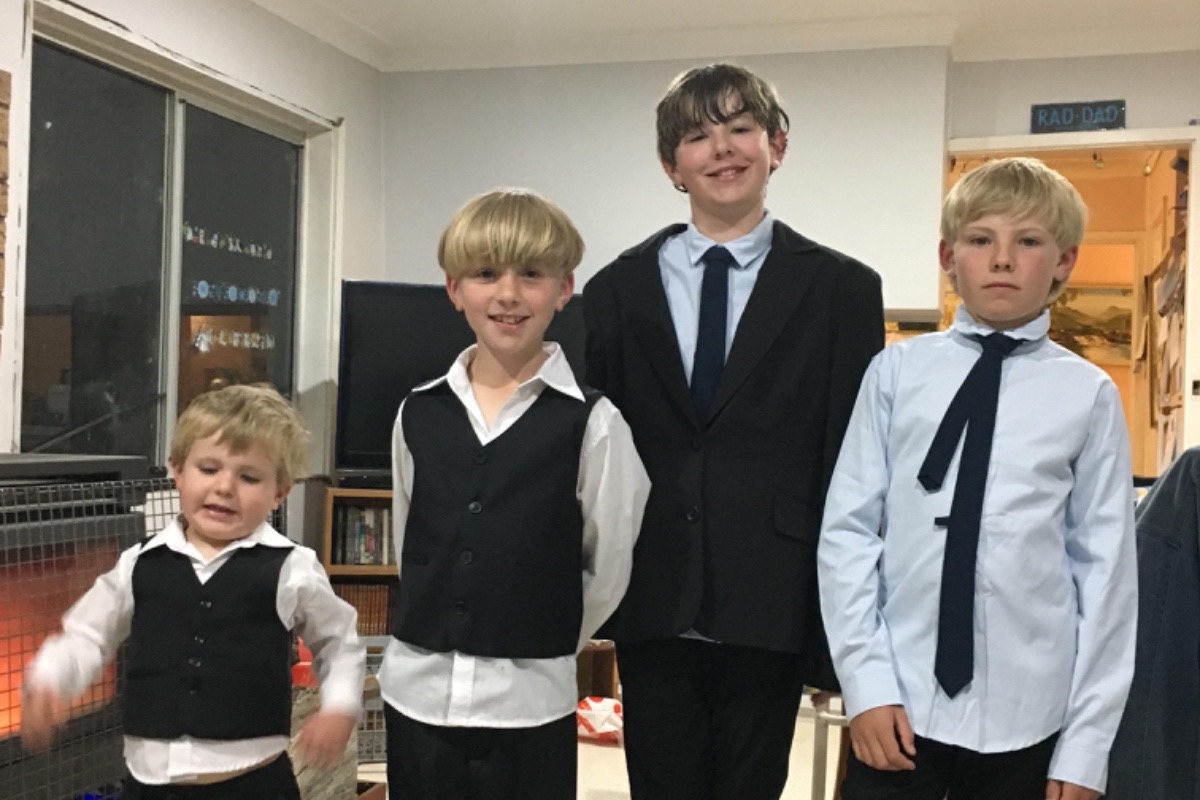 Australia Cafe Huckers Tucker 
Organizer and beneficiary
#1 fundraising platform

People have raised more money on GoFundMe than anywhere else. Learn more

GoFundMe Guarantee

In the rare case that something isn't right, we will refund your donation. Learn more

Expert advice, 24/7

Contact us with your questions and we'll answer, day or night. Learn more